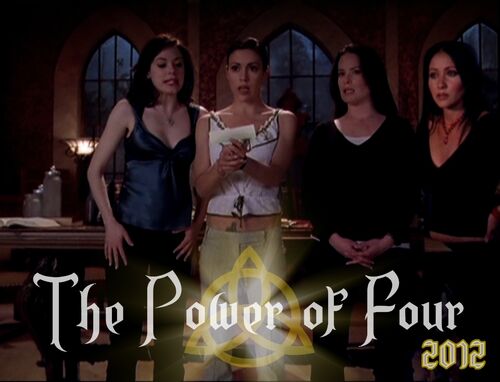 Episode List: January 2012 - May 2012
Image
Title
Original Airdate
Episode
Fear of the Witches
January 2, 2012
198
10.01
When the Demon of Fear returns for one more scare, the Power of Four must unite to vanquish this evil being, however a loved one's life is taken away.
Forgetting Jack Sheridan
January 9, 2012
199
10.02
The sudden death of Jack has made Prue vulnerable to a demon that reverses her morale. An attack in the Kitchen results in an injury for Piper and a captured Prue.
Something to Die For
January 16, 2012
200
10.03
When a captured Prue breaks free of the Force Field she wrecks havoc but she is then thwarted by Wyatt and Chris. Piper casts a spell to Lighten One's Mood which leads to Piper accidently blowing Prue up.
The Boy Who Cried Wendigo
January 23, 2012
201
10.04
When a male teen witch is attacked by a Wendigo, the Sisters must team together in attempts to vanquish it. However, have they made a big mistake helping a witch they don't even know.
Memory Whisperer Part 1
January 30, 2012
202
10.05
When Christian gets into Piper's head after she blows him up, he is able to manipulate her into giving up her and her sisters' powers. When Christian gains their powers, he kills all of them, except the most powerful.
Memory Whisperer Part 2
February 6, 2012
203
10.06
The death of Paige's sisters has left her distraught. However, she must regain the strength to vanquish Christian and bring her sisters back before its too late.
Lunar Power
February 13, 2012
204
10.07
The Full Moon gives the sister's an extra Power Boost which puts themselves and other's around them in danger. When a Spirit Demon attacks; and takes the Book of Shadows; the sister's must use this power boost to get it back!
Grey Mist
February 20, 2012
205
10.08
When a grey mist attacks the sisters, captures Piper and turns everyone against Prue, Phoebe and Paige; Piper tries her hardest to save them. Does she succeed?
Trapped in, Locked in
February 27, 2012
206
10.09
When special glass gloves are sent as a gift to the Charmed Ones, they put them on without the knowledge of who sent them and what they can do.
Familiar Faces
March 5, 2012
207
10.10
As the Sisters come across a powerful demon who can warp certain past events, familiar faces come back from their pasts.
Powers Gone Wild
March 12, 2012
208
10.11
With a demon thriving off Wyatt, Chris and Melinda's powers, it would be a really bad moment for the sisters' powers to go wacky again, especially when Piper and Leo are at risk.
Solo Prue
April 2nd, 2012
209
10.12
When Jack is injured and taken away from Prue, she is introduced to a new society when she cannot contact her sisters or Leo.
Solo Paige
April 9th, 2012
210
10.13
When Billie seeks Paige's help after her powers are stripped, it is revealed that Billie is one of the guardians to the Amulets of Protection - even though they were believed to have been destroyed.
Solo Phoebe
April 16th, 2012
211
10.14
Phoebe's anxiety becomes a serious problem which means she has to visit a Witch Doctor who informs her that her fear has severed her connection to her emphatic and foresight abilities.
Solo Piper
April 23rd, 2012
212
10.15
Just as Piper closes the deal on her restaurant, a demon resurrected by her own son threatens not only her life, but the rest of her families.
The Revelation
April 30th, 2012
213
10.16
After it is revealed that the reason the sisters' powers have been acting so differently is because of a decision they made over a year ago, they struggle coming to terms with their options.
We Will Fight
May 21st, 2012
214
10.17
In denial of what they know they have to do to restore their powers, the sisters come together to form a plan to try and fight the system and keep them all united.
The Final Choices Part 1
May 28th, 2012
215
10.18
One sister must leave, The Power of Four can be no more; but who will walk out the door?
The Final Choices Part 2
May 29th, 2012
216
10.19
As Season 10 comes to an end, the sisters struggle to accept the absence of one of their own; living with the knowledge that they can never seem them again.