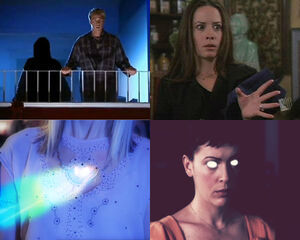 The Solo Series was a four episode series featured in Season 10. It consisted on Solo Prue, Solo Paige, Solo Phoebe and Solo Piper. Each episode focused on a particular sister and their loved ones, in each episode new abilities were discovered, which were:
Prue: Advanced Astral Projection
Paige: Thermokinesis

Billie: Guardian of the Amulet

Phoebe: Injury Transference
Piper: Molecular Reversion
This series was conducted as to cover up certain loopholes created throughout the past two seasons, as well as get a closer insight in the sisters' lives individually. Each episode ran alongside each other in terms of the events shown; such as the sisters stumbling upon each others' disasters.
These four episodes also saw the return of the certain character Billie Jenkins and the return of the demon Valkiline - it also introduced a new society called The High Court Society of Witchcraft which will be explored further in future episodes.
Ad blocker interference detected!
Wikia is a free-to-use site that makes money from advertising. We have a modified experience for viewers using ad blockers

Wikia is not accessible if you've made further modifications. Remove the custom ad blocker rule(s) and the page will load as expected.